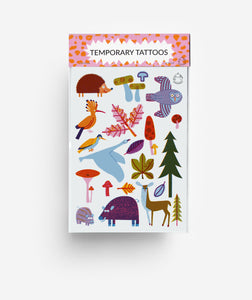 Take your nature-loving style to a whole new level! Our Woodland A6 Temporary Tattoos make it easy to adorn your skin with adorable designs. From foxes to deer and everything in between, you're sure to find your perfect furry friend here! Get ready to make a statement – no commitment required!
TEMPORARY TATTOOS
Woodland A6 Temporary Tattoos Packed in cellophane bag with cardboard header.
Application Instructions:

Cut out your chosen tattoo and remove clear top sheet.
Press tattoo onto clean, dry skin with the design facing down.
Dampen tattoo, and press down.
Wait 30 seconds, then slide paper backer off and pat dry.
Removal of tattoos just requires soap, warm water, and a bit of elbow grease!