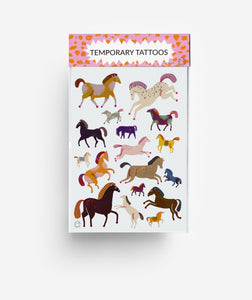 Let your wild side break free with these Horses A6 Temporary Tattoos! Show off your fun side with these tattoo prints that can be easily applied and removed, so you can go from ready-to-roam to tame in no time!
TEMPORARY TATTOOS

Horses A6 Temporary Tattoos
Packed in cellophane bag with cardboard header.
Application Instructions:

Cut out your chosen tattoo and remove clear top sheet.
Press tattoo onto clean, dry skin with the design facing down.
Dampen tattoo, and press down.
Wait 30 seconds, then slide paper backer off and pat dry.
Removal of tattoos just requires soap, warm water, and a bit of elbow grease!