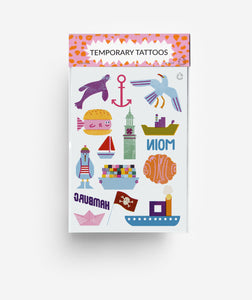 Tattoo the seas with these Hamburg A6 Temporary Tattoos – full of fun maritime characters and enough sass to put the anchor in anchor-age. Get your skin ready to sail with these cheerful tattoos that'll have you wanting ahoy more!
TEMPORARY TATTOOS 

Hamburg  A6 Temporary Tattoos 
Packed in cellophane bag with cardboard header.
Application Instructions:

Cut out your chosen tattoo and remove clear top sheet.
Press tattoo onto clean, dry skin with the design facing down.
Dampen tattoo, and press down.
Wait 30 seconds, then slide paper backer off and pat dry.
Removal of tattoos just requires soap, warm water, and a bit of elbow grease!